The user interface in Version 3 of SliQ Submitter Plus has been arranged to make it easy to get submitting. All you need do is follow the tabs down the lefthand side of SliQ, entering the required information. You then press the appropriate toolbar button to start the Automatic, Fast or Browser submitters. However, if this is the first time you have use SliQ Submitter or you are creating a new site, SliQ will show a Campaign Wizard that will guide you through entering your website details.
To get started, follow these steps:-
1. If SliQ isn't already displaying the Campaign Setup Wizard, press the New button in the toolbar.
The Campaign Wizard displays. Follow the instructions in the wizard to enter your website details.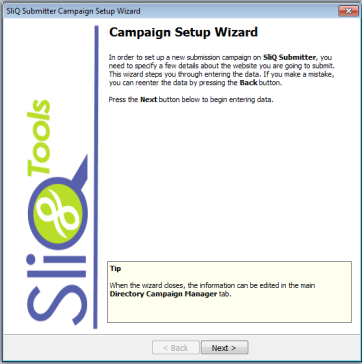 If you want to use the Email Clicker, you will need to enter your email account details in the wizard or, if you have closed the wizard, on the Site Details tab.
Email Account Details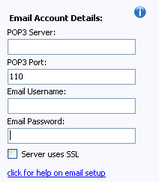 Note: The email account details must correspond to the email address you entered in the site details. The directories will email you confirmation or verification emails to the address you give in your site details. To be able to click on any links in the emails, SliQ need you to enter the account details for the email so it can access your mailbox and download and read the emails.
2. After closing the wizard, if you want to use the Automatic Submitter you will also need to configure a captcha service on the Captcha Decoder tab.

3. Press the appropriate button in the toolbar to start the submitter of your choice.
If you want to run the same submitter as you did in V2, press

.
For fastest submission, click the Auto button
For an overview of the submitters, see Submitters Overview.
For information on running the submitters, see:
The use of the Proxy, Directories and Option tabs are not necessary to get started with SliQ Submitter Plus. For more information, see Setting up a Proxy, Choosing which Directories to submit to and Options.
See Also