To delete an Author Account, click the Delete button in the Author Account group in the toolbar: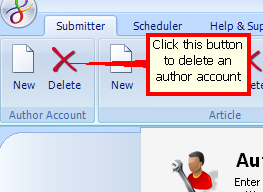 Note: When you delete an author account from SliQ's database, SliQ will delete ALL articles, registration and submission details associated with the account. This means you cannot submit the articles to any new directories you add to SliQ in the future.
We recommend you take a backup of your article campaign file BEFORE deleting an author account.
See Also