You can add your own lists of article directories to SliQ for submission.
SliQ supports the following article directory scripts:-
1. Article Dashboard
2. Article Friendly
3. Article MS
4. Article Setup
5. Wordpress
You can scrape the URLs of any directories using these scripts and add them to SliQ. When you add your list, SliQ will analyze the URL to see if a supported directory script is present on the site. If a supported script is present, SliQ will add the URL to your own directory database stored on your PC.
Note: Even though a directory has a matching script, SliQ may still not be able to successfully submit to the directory, e.g. because registrations or submissions are closed on the directory or something else is broken on the directory website.
To add directory URLs to SliQ, take the following steps:-
1. Press the Add Custom Directories button in the toolbar:

2. Paste your URLs into the Add Custom Directories dialog as shown below: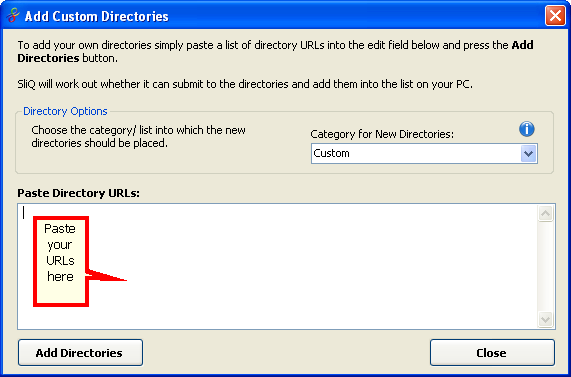 Note: You can add root (homepage) URLs or the URLs or inner pages, with/ without the www. or http://. SliQ will tidy up the URLs before performing its analysis of the website.
3. Either choose an existing category for the new directories or enter a new one in the Category for New Directories edit/ combo box.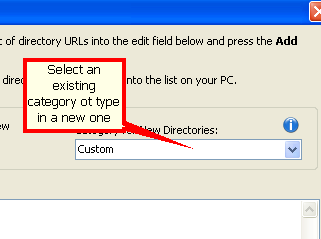 4. Press the Close button.
SliQ will then analyze the URLs and add any matching URLs/ scripts into your database.
See Also