To create a new Author Account, click the New button in the Author Account group in the toolbar: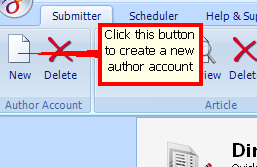 SliQ will create a new Author Account with default details.
Note: When SliQ creates a new account, it randomly creates author details such as an address login name and password. Whenever you create a new account with article directories, you will need to use a new login name, address and so on, so that your new account appears totally unique to the directory. To save you time, when you create a new account, SliQ automatically fills in as many of the fields on the Author Account tab as it can by creating random details such as name and address.
You can replace SliQ's random details with your own values if you wish. If you want to keep SliQ's random details, you only need to complete the email address, password and email server details to allow registration and clicking of links in confirmation emails to be performed by SliQ.
For more information, see Entering Author Account Details.
See Also