Automatically Click Links in Emails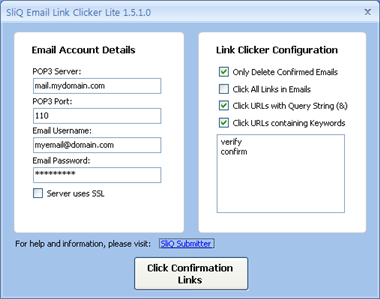 If you are using a submission program like our directory submitter SliQ Submitter Plus, you will receive hundreds of emails that you have to open one-by-one and click the confirmation links.
The alternative is to use SliQ Email Link Clicker to automatically click the links for you. By downloading your emails and clicking the links for you, SliQ Email Link Clicker can save you hours or work when running a submission campaign - and SliQ Email Link Clicker is completely free!
For a limited period we are providing SliQ Email Link Clicker Lite completely for free!
For help on using SliQ Email Link Clicker Lite, see:
Link Clicker Configuration Help, and
Configuring Email Account Settings
Try out our High Speed Directory Submitter
If you want to increase your website ranking in search engine results by building backlinks to your website, try SliQ Submitter Plus. SliQ is a a high-speed directory submitter that has both fully automatic and semi-automatic modes. Not only does SliQ come with over 2000 directories for you to submit to, you can even add your own directories for submission in fully automatic mode.
See Also